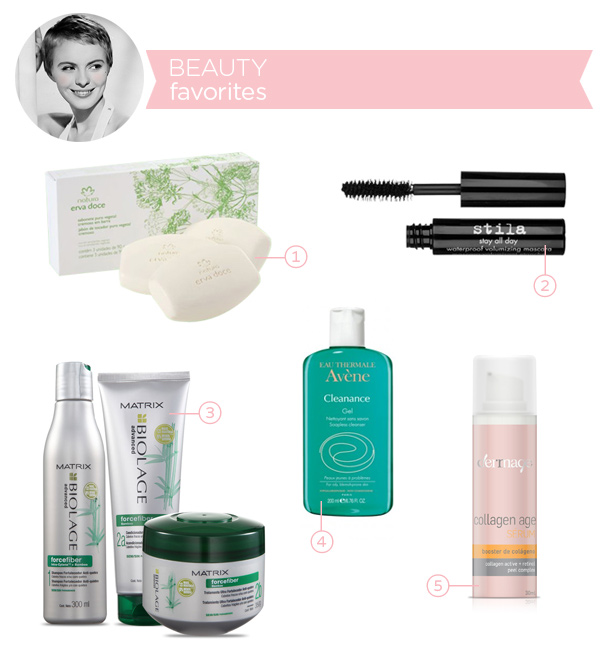 These are a few of my october beauty favorites:
1. Natura Creamy Fennel Bar Soap – I'm not a huge fan of fennel in my kitchen, but I love these amazing soaps that have a lovely sweet frangrance. According to the brand, this soap retrieves the protective layer of the skin 75% faster, which is a bonus!
2. Stila Stay All Day Waterproof Volumizing Mascara – This has been my go-to mascara for quite some time. It has a plush volumizing formula that gives extreme volume and beautifully defined lashes (I avoid applying too many layers, so it doesn't look artificial). It also has an impressive durability, it's the kind that only comes off with a very good makeup remover.
3. Matrix Biolage Advanced Force Fiber – This line was designed to strengthen weak, fragile hair and it's formulated with Intra-Cylane and Bamboo, that add resiliency and condition the cuticle. I feel that my hair is a lot stronger (and shinier) since I started using it!
4. Avène Cleanance Gel – This one is an old favorite, I always go back to it when I can. This soapless cleanser, specially suitable for oily and acne prone skin, eliminates impurities and excess sebum without stripping the skin. I love to use it at night, since it has a soothing effect.
5. Dermage Collagen Age Sérum – Who needs a collagen booster? I know I do! This is a concentrated serum that stimulates the natural production of collagen and has a booster action. In other words, the product reduces fine lines, superficial wrinkles and improves skin texture and tone. It is formulated for all ages and skin types. Yay!
♥
Which beauty products were your favorites this month?