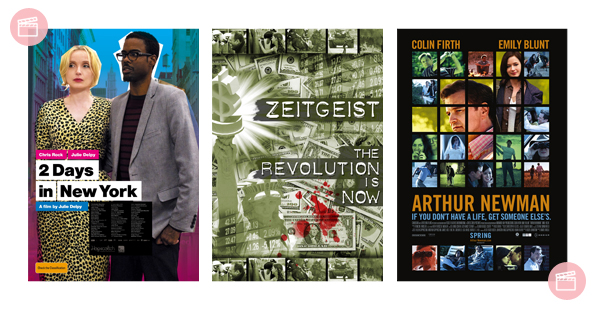 2 Days in New York (dir. Julie Delpy, 2012)
It's curious and fun to observe the cultural differences between the U.S. and France in this comedy directed by Julie Delpy, but I recommend watching 2 Days in Paris before, so you won't miss a few jokes and references. Watch the trailer.
 Zeitgeist (dir. Peter Joseph, 2007)
An independent documentary that appears in almost every list of best documentaries of all time, Zeitgeist investigates what is behind major issues that have always governed the world: religion, war and money. Watch it with an open mind and draw your own conclusions. Watch the trailer.
Arthur Newman (dir. Dante Ariola, 2012)
You know when people say that there's no point in changing to a different city, country or personality when pain and melancholy are within you? This movie is about that. It's sad, but with a bit of humor to balance. Plus Colin Firth and Emily Blunt! Watch the trailer.