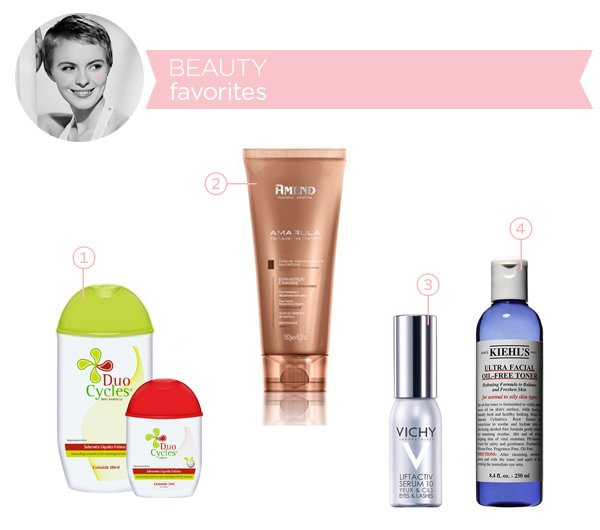 These are a few of my april beauty favorites:
1. Duo Cycles intimate liquid soap – A new concept in personal hygiene, these liquid soaps are hypoallergenic and have different formulations for different moments of the female cycle. The one with the green lid has no scent and can be used daily. The other one, with a red lid, has an essence that helps to mask odors and should be used during the menstrual period. I really like the concept!
2. Amend Amarula Fabulous Nutrition – disciplining nourishing cream – This particular line focuses on hydrating the hair without overwhelming it. I've been using this leave-in whenever I feel that my hair is extra dry. It has done wonders for me, I have to say!
3. Vichy Liftactiv Serum 10 Yeux & Cils – A dual-powered eyes and lashes serum, formulated with rhamnose, a naturally derived plant sugar, clinically shown to visibly improve skin rejuvenation. This serum is highly concentrated and delivers exceptional results against the signs of aging. Also suitable for sensitive skin!
4. Kiehl's Ultra Facial Oil-Free Toner – This toner gently removes residue, dirt and oil without stripping the skin of its vital moisture. I use it at the end of my skin routine, after the cleasing foam and/or makeup remover. It helps to eliminate that last bit of makeup (that seems to NEVER come out).
♥
Which beauty products were your favorites this month?