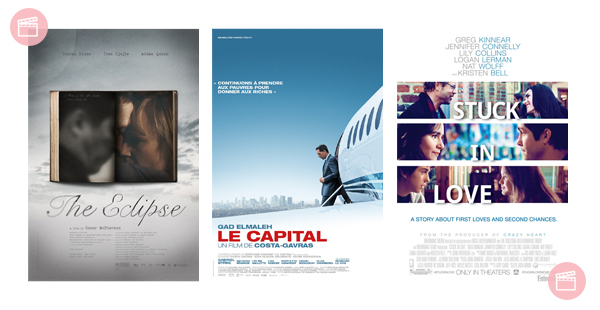 The Eclipse (dir. Conor McPherson, 2009)
During a literary festival in Cobh, a seaside Irish town, a widower starts to receive very strange visitors at home. The novelist Lena Morelle, a specialist in ghost stories, arrives in town for the festival and gets involved in the case. It's not a typical horror story, but it does have a few good scares and suspenseful moments. An Cobh is such a beautiful (and a little creepy) place, I want to visit someday… Watch the trailer.
Capital (Le Capital, dir. Costa-Gavras, 2012)
Let's just say that this movie makes The Wolf of Wall Street look like a finance movie for dummies. And Gad Elmaleh as the unscrupulous CEO Marc Tourneuil is amazing: zero cliché, zero affectation. Simply wonderful. And, as the movie ends, we get a little depressed, knowing that the world is in the hands of these bankers. Watch the trailer.
Stuck in Love (dir. Josh Boone, 2012)
One of those movies that looks at love from many angles and from the point of view of several generations of the same family. Not a great movie (really!), but I can point out that I found interesting to see a family of writers, each with their literary references. It made me want to grab a book, more than finish watching the movie, to be honest. Watch the trailer.