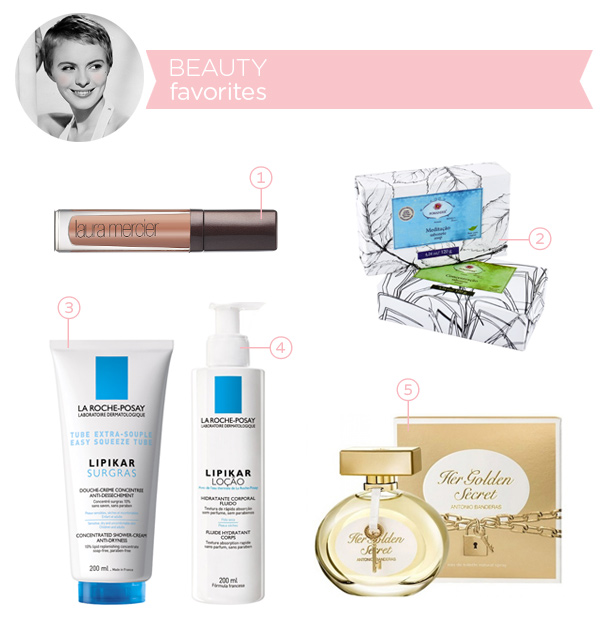 These are a few of my september beauty favorites:
1. Laura Mercier Eye Basics – It's a eye primer that makes eye shadow adhere better and last longer. It camouflages the imperfections and enhances the makeup. The creamy formula dries quickly to a very beautiful and silky finish (my color is Wheat).
2. Pomander Bar Soaps – The beauty of this line is that all soaps contain 100% pure essencial oils and Bath Flower Remedies. The fragrances are wonderful! One of my favorites is Meditação (meditation) with cedar essential oil, which relaxes and leaves a delicious woody scent.
3. La Roche-Posay Lipikar Surgras – Loving this concentrated shower-cream anti-dryness, that help restore the skin barrier and replenish the skin's lipids in the shower. I use it on my face as well. The fragrance is light and the texture is creamy (it makes a soft foam). Soap-free and paraben-free.
4. La Roche-Posay Lipikar Gel-Fluide – This is the ideal product to use after the shower-cream, since it has shea butter and glycerin, that help replenish lipids and hydrate. Suitable for those with dry, sensitive or sensitized skin, this product protects, restores and soothes the skin against external aggressions. Refreshing, light, quick dress texture.
5. Antonio Banderas Her Golden Secret Eau de Toilette – I think what struck me in this fragrance were the top notes: a mixture of bergamot, mandarin, apple and peach. Pretty exotic, right? But this combination works really well and the perfume has great fixation. The campaign video explores the actor's sex appeal, opposite spanish actress Paz Vega.
♥
Which beauty products were your favorites this month?