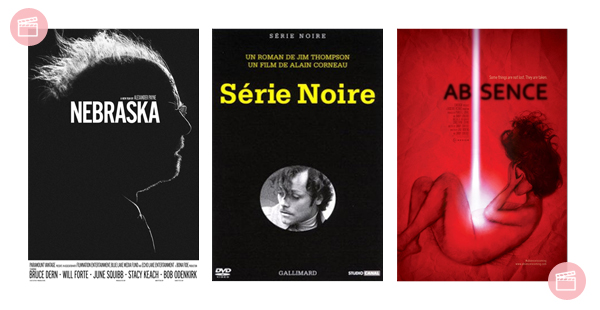 Nebraska (dir. Alexander Payne, 2013)
A kind of road trip with an alcoholic/senile father and his estranged son. A very sensitive movie, with wonderful photography, script and incredibly well built characters, amazing actors… of course it didn't win the Oscars! But I think it's infinitely superior to the weak 12 Years a Slave. Watch the trailer.
Série Noire (dir. Alain Corneau, 1979)
A door-to-door salesman sees the opportunity to make some money and save a young girl from prostitution at the same time. All this in a sinister part of Paris' suburbs in the late 70′s. The movie has a dark humor and an unpredictability, which generates both uneasiness and attraction. Very interesting. Watch the trailer.
Absence (dir. Jimmy Loweree, 2013)
Official plot: a pregnant woman wakes up one day and discovers that the baby disappeared inside her belly. No one believes her except her boyfriend and his brother, so they decide to get a break from it all in a cabin in the woods. Unofficial plot: the most annoying guy EVER decides to film his sister and boyfriend non-stop in a cabin in the woods, where nothing interesting happens. And it's filmed in found footage style (kinda like The Blair Witch Project, remember?), which is a great excuse to shoot everything poorly. Two hours of my life that I will never get back. Watch the trailer.