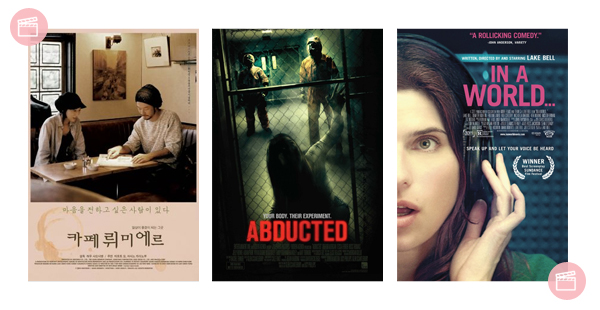 Café Lumière (Kôhî jikô, dir. Hsiao-hsien Hou, 2003)
The movie is a homage to the great Japanese director Yasujirô Ozu and is even more minimalist than the original (if that's possible). It shows fragments of the life of young Yoko and her friend Hajime and is filled with reflections on the passing of time and family relationships. But you should be familiar with Ozu's aesthetics (or you might end up with the feeling that "nothing-happens-in-this-movie"). Watch the trailer.
Abducted (dir. Lucy Phillips e Glen Scantlebury, 2013)
A couple is kidnapped in a park and have no idea why and who are the abductors. The story has an interesting atmosphere of mystery, until the middle of the movie, when you realize what's really going on and gets a little disappointed… Watch the trailer.
In a World… (dir. Lake Bell, 2013)
A fun indie movie about the sexist voice-over industry. I know, the theme is rather odd, but it's a very light and entertaining comedy (and with so many clichés out there, it's good to watch a movie with such an unusual theme for a change, right?). Watch the trailer.