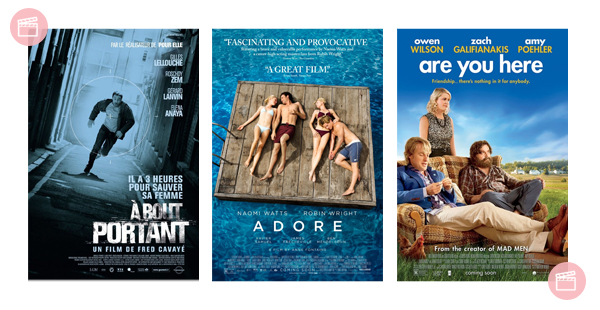 Point Blank (À Bout Portant, dir. Fred Cavayé, 2010)
A nurse saves the wrong guy: a thief, whose henchmen take his pregnant wife hostage to force him to take their boss out of the hospital. A nice thriller, not a lot different from the ones we're used to watch. But, since it's a french movie, prepare yourself to see a lot of chases and action scenes on the streets of Paris. Watch the trailer.
Adore (dir. Anne Fontaine, 2013)
Two childhood friends and neighbors in their 40's (who raised their children together, by the way) fall for each other's sons. I have nothing against romance between generations (especially among older women and younger guys), but this story is so unbelievable and poorly constructed, it's embattassing to watch. Run, without looking back… Watch the trailer. 
You Are Here (dir. Matthew Weiner, 2013)
I saw Amy Poehler, Zach Galifianakis and Owen Wilson in the cast and thought "WOW, this must be a great comedy, right?". Wrong. The movie is the very dramatic story of Ben Baker (played by Galifianakis), who returns to his hometown after inheriting the house and the business from his recently deceased estranged father. Surprising, but not memorable. Watch the trailer.