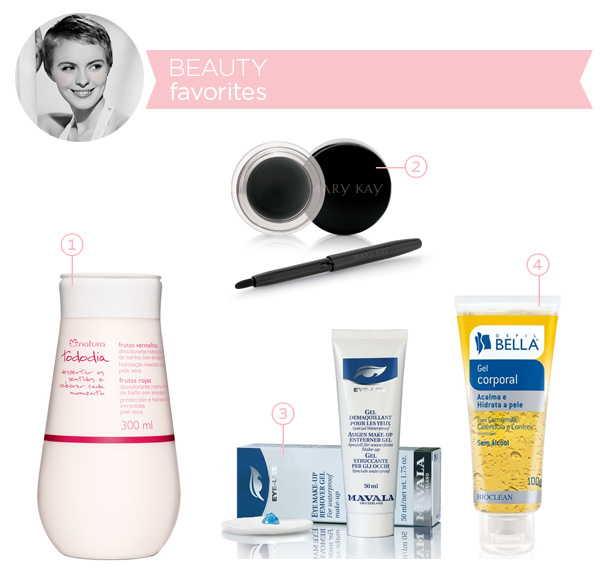 These are a few of my july beauty favorites:
1. Natura Tododia Red Berries Deodorant Bath Moisturizer – If you want to get out of the shower with a super moisturized and fragrant skin, this is the product for you! It's been a little cold over here lately, so I've been using this bath moisturizer for a few weeks now (this way I can get dressed as soon as possible when I get out of the shower). Amazing!
2. Mary Kay Gel Eyeliner – Love in the shape of an eyeliner. That is the best definition for this gel eyeliner. Waterproof and with a great texture, it comes with a mini brush that helps you apply the product with total accuracy, even for amateurs in the art of makeup (like myself)!
3. Mavala Eye-Lite – Eye Make-up Remover Gel – This make-up remover for the eye area was especially developed to remove waterproof products in this region, which is the most delicate part of the face. Just dampen a cotton pad with water before applying a small amount of the gel (as pictured), holding it on the eyes for a few moments, without rubbing. It's very effective!
4. Depil Bella Camomile Body Gel – Enriched with extracts of comfrey, calendula and chamomile, this gel is a great after shaving option. It "calms" and hydrates the skin. It can also be used as a after-sun gel, post-manicure and aftershave (the boy uses and loves it!).
♥
Which beauty products were your favorites this month?