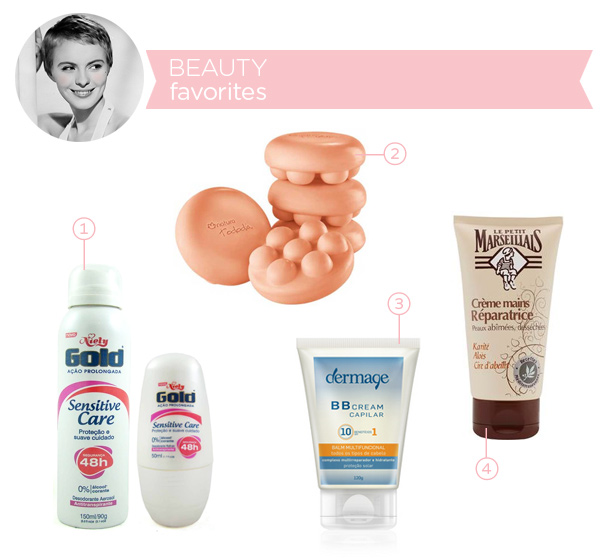 These are a few of my may beauty favorites:
1. Niely Gold Sensitive Care deodorant aerosol and roll on – Did you know that Niely has a full line of deodorants? I discovered them on my visit to the brand's factory and I have to say I'm very impressed with the Sensitive Care line. The fragrance is amazing! I tried (and loved) both the roll on version and the aerosol. I really recommend it!
2. Natura Tododia Pure Plant Massager bar soap Hazelnuts and Pomegranate – I cannot live without these fabulous soaps by Natura. Of course the massaging effect fades as the soap is being used, but the lovely scent and the after-bath soft skin compensates.
3. Dermage Hair BB Cream  – And now we have BB Cream for the hair! This balm has 10 multifunctional benefits and should be used as a leave-in, post-wash, with the hair still damp. I noticed that my hair gets super shiny whenever I use it. And it also have sunscreen. Yay!
4. Le Petit Marseillais Crème Mains Réparatrice – Super moisturizer hand cream, with shea butter, aloe and beeswax in its formula. The great thing about it is that it doesn't leave that horrible greasy texture in your hands, so it's perfect to use before bedtime!
♥
Which beauty products were your favorites this month?