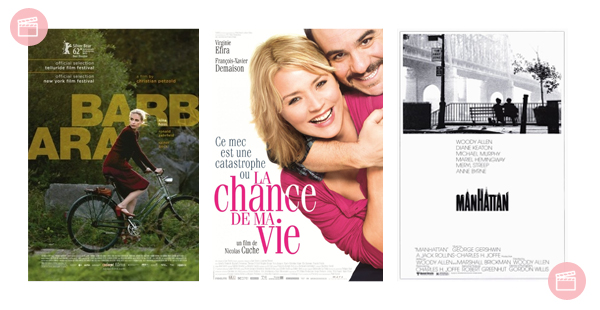 Barbara (dir. Christian Petzold, 2012)
A portrait of East Germany in the 80's, this movie impresses with a subtle and strong script, without the always annoying communist clichés. A fine example of the new german cinema, I really recommend it! Watch the trailer.
La Chance de Ma Vie (dir. Nicolas Cuche, 2011)
A very silly french comedy about Julien, a man that jinxes every woman who falls in love with him. Like a black cat for women. Perfect for anyone who loves ultra predictable romantic comedies (not my case). Watch the trailer.
Manhattan (dir. Woody Allen, 1979)
New York in the late 70's + Woody Allen (as Isaac) dating a teen Mariel Hemingway, divorced from a lesbian Meryl Streep and in love with an intellectual Diane Keaton. Amazing. Watch the trailer.