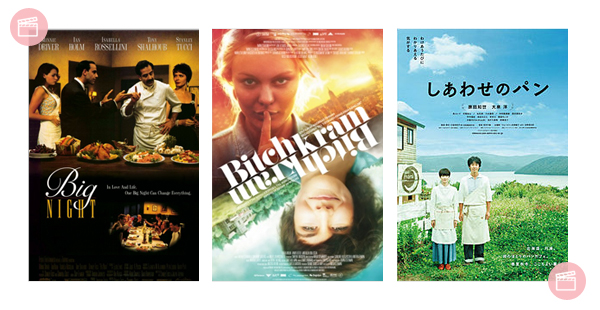 Big Night (dir. Campbell Scott & Stanley Tucci, 1996)
How can anyone not love a good food movie? From the time that ordering risotto at a restaurant was considered exotic. I'm still dreaming about all the amazing italian dishes, especially the timpano. Watch the trailer.
Bitch Hug (Bitchkram, dir. Andreas Öhman, 2012)
Kristin lives in Sundsvall, a lovely small town in Sweden, but spends her days dreaming of New York, where a columnist job awaits her. Interesting to see how this obsession with New York is not exclusively a brazilian thing. I, for instance, would trade NYC for Sundsvall in a heartbeat. Go figure … Fun movie, but a bit too dramatic at the end. Watch the trailer.
Bread of Happiness (Shiawase no pan, dir. Yukiko Mishima, 2012)
This movie is a little slice of happiness. It shows the daily routine of a japanese bakery/cafe/pension. Minimalist aesthetics + stunning images of the food served at Cafe Mani + a lamb. Yes, there's a lamb, prepare yourself to the cuteness. Watch the trailer.