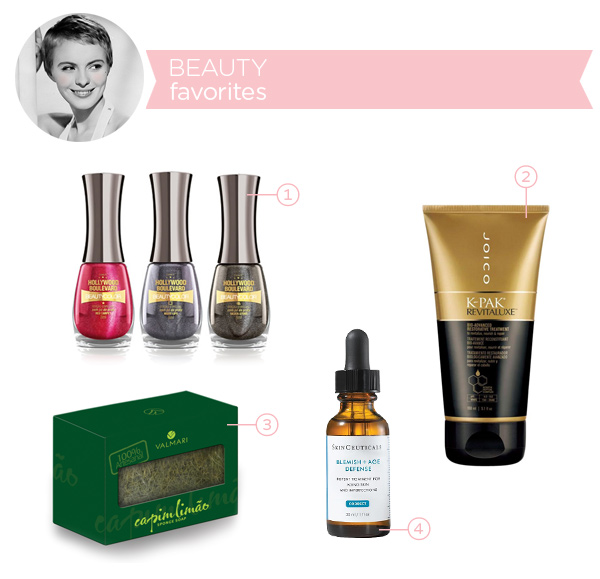 These are a few of my august beauty favorites:
1. Beauty Color Hollywood Boulevard Collection – Inspired by the world of cinema, this new nail polish collection is pure luxury! They contain powdered silver, so you can imagine how they shine (you can see it better in this instagram pic). There are seven colors, but the prettiest are Red Carpet (red), Night Life (blue) and Silver Stone (lead).
2. Joico K-PAK Revitaluxe Bio-Advanced Restorative Treatment - Restorative treatment that revitalizes, nourishes and repairs the hair. I'm using it twice a week and I notice that my hair gets super soft after each application. Downside: the smell of the product is not very nice … :/
3. Valmari Lemongrass Sponge Soap - This vegetable loofah moisturizes the skin and promotes a toning peeling. Ideal for use on thighs, buttocks, abdomen, arms and legs, it improves skin circulation (so it's great against cellulite) and have a lovely lemon grass scent.
4. SkinCeuticals Blemish + Age Defense - Another serum to join my list of favorites. Its formula is oil-free and contains 5 acids that help combat oiliness and acne. The product helps in reducing wrinkles and fine lines, and also even out the tone and texture of the skin. I am alternating with my other favorite Phloretin CF, using it at night, after my skin cleansing ritual. I highly recommend!
♥
Which beauty products were your favorites this month?